When:
June 15, 2018 – June 24, 2018
all-day
2018-06-15T00:00:00-04:00
2018-06-25T00:00:00-04:00
Where:
Pembrokeshire, Wales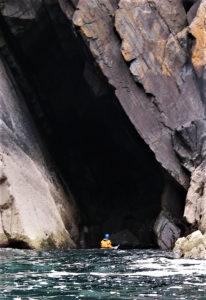 The Welsh Coast offers some of the finest sea kayaking to be had. Paddle along dramatic sea cliffs and watch birds nesting precariously in the rocks. Glide silently into caves and listen to the sound of a breathing dragon as the sea swell compresses air pockets in the stone, releasing a puff of air and the sound of a growling mythical creature.
While Wales is part of the United Kingdom, it has retained much of its Welsh pride as evidenced in its people, castles, sites, culture, and history. In addition to the paddling portions of the trip, you'll have the opportunity to see these sites and sample Welsh life.
We'll even change pace a bit and go for a motor boat ride through one of the strongest tidal races in the world know as "The Bitches". Here, the incoming and outgoing tides are funneled between Ramsey Island and the mainland, creating an incredible current.
All your nights in Wales will be spent in a cozy traditional Welsh cottage. We'll also be spending our first and last nights in Dublin, Ireland so you'll get your city fix as well.