When:
April 6, 2018 – April 14, 2018
all-day
2018-04-06T00:00:00-04:00
2018-04-15T00:00:00-04:00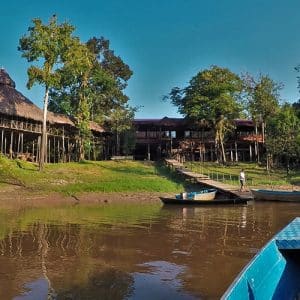 Have you ever wanted to experience the awe inspiring Amazon jungle, but prefer not to sleep in a hammock, cook on a fire, and bathe with caiman? If so, this trip is for you. Spend a few nights in the Amazonia Expeditions Tahuayo Lodge named by Outside Magazine as one of the top ten wilderness lodges in the world. You'll also spend a couple nights further upriver in the Amazon Research Center (ARC) surrounded by pristine jungle. Spend your days exploring the jungle with your professional guides which include an experienced biologist. Spend your nights comfortable, clean, and dry in your bed.
You will also spend a night in cabins with our friend Wilder and his family. Staying a night with this Peruvian family will be a memorable experience. Wilder can teach us about some of the medicinal plants he grows, you can swim with his children, or go for a walk.
In addition to your time on the Tahuayo River, you'll have a couple days to explore Iquitos which is the largest city in the world with no road access.