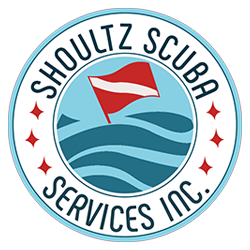 Cambodia. For many people, the name alone conjures images of grand temple ruins like Ankor Wat or Bayon, and the rich cultural history surrounding them. Yet, few realize that in addition to these awe-inspiring ruins, Cambodia is home to seldom visited reefs teeming with life. Towering coral colonies and thousands of brightly colored Pacific fish are just waiting for adventurous divers to explore them.
Feral Human Expeditions and Shoultz Scuba Services have teamed up to bring you some of the best the Kingdom of Wonder has to offer, both above and below the water. Come with us for a dive trip unlike any other on Cambodia: Reefs and Ruins.
This trip begins with sight-seeing in the capital city, Phenom Penh, where you will investigate Cambodia's dark past with the Khmer Rouge and learn some of the country's history. Travel across this unique country to secluded beaches, remote dive sites, and a one-of-a-kind liveaboard experience. Following four days of guided dives in the Gulf of Thailand, we travel to Siem Reap to visit the Angkor Wat temple complex and wind down before traveling home.
---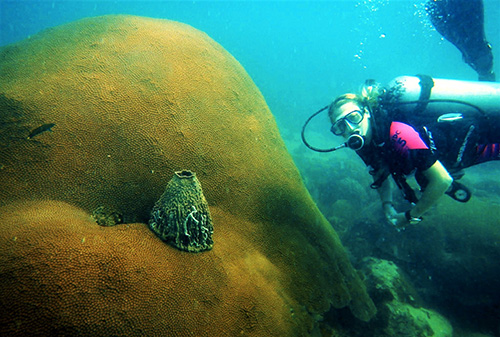 ---
---
Facts at a Glance
When: January 4-13, 2021
Where: Fly into Phnom Penh, Cambodia. For your flight home, you have the option to fly out of Siem Reap on the last day, or come with us on the 6-hour drive back to Phnom Penh.
All dives occur near a series of islands 15-40mi off the coast of Sihanoukville, Cambodia in the Gulf of Thailand. Most dives are boat dives and are run by a local PADI 5 Star operator. One optional shore dive is offered.
What you can expect to see on the dives: Pacific reefs teeming with life! Coral is abundant with towering, 15ft boulder corals and expansive plate corals growing between smaller, diverse coral patches. Thousands of small fish, sea urchins, and other brightly colored benthic creatures can be seen on every dive, and coral cat sharks can be spotted on night dives. Depending on selected dive locations, there is a chance to spot a whale shark off the coast of Koh Pring.
Price: $3,800. Group size will be a minimum of 4 and maximum 8.
What is Included: Lodging, most meals starting with lunch on day 1 and ending with lunch on day 10, four days of diving, local and US dive guides and instructors, dive tanks and weights, most entrance fees, airport pick up and drop off, all ground transportation during the tour, local Cambodian guides/interpreters, and all day tours. Divers are encouraged to bring their own dive gear, but arrangements can be made to provide equipment as needed.
What is not included: Flights, entrance visa, alcoholic beverages, beverages between meals while in cities, 4-5 meals, entrance to Angkor Wat, personal travel insurance (recommended), dive accident and extraction insurance (required), laundry service, tips for local staff, and any unscheduled activities.
Level of Difficulty: Beginner to intermediate. Typical visibility exceeds 40ft, often up to 100ft or more, and most dives are less than 40ft, with some deeper dives near the end of the trip as conditions and group ability dictates. Divers may choose to participate in a skills refresher on dive day 1 and Advanced Open Water certification is available during the trip as well. Accommodations are atypical for a traditional liveaboard vessel where we spend one night. See Lodging section for details.
Food: We will eat at a variety of restaurants in cities and on the beaches including traditional Cambodian food and occasional western options. While on the dive boat, all meals are provided by the charter. Most food is included in the trip cost, but expect to purchase 4-5 meals on your own.
Lodging: In cities, we will stay in a variety of hotels and bungalows, including very basic rooms that may not have air conditioning or hot water. On Kong Rong Samloen island, freshwater is brought in each day and is therefore limited use, and electricity is unavailable from approximately 10pm-10am. Charging stations are available in common areas, but there is no internet or cell service on the west side of the island where we stay for two nights.
We will spend one night on sleeping pads/mattresses on the dive boat. This is not a traditional liveaboard vessel. All mattresses are lined up on the top deck of the boat in a common, open air space. The deck is covered to protect from the elements, but not sealed or climate controlled.
Visa: U.S. citizens to not need a visa in advance. You can purchase your visa at the airport after landing. You will need to pay $25-$30 USD in cash, and provide them with a passport photo or similar. This is a very easy process, just remember cash and a photo.
Vaccinations: For a list of recommended vaccinations visit your travel doctor or the CDC website at wwwnc.cdc.gov/travel
Insurance: All trip participants are required to show proof of DAN Dive Accident Insurance, and home country medical evacuation which can be purchased at https://www.diversalertnetwork.org/insurance/. General travel insurance and dive equipment insurance are encouraged as well.
---
Basic Itinerary
Day 1: Arrive at the Phnom Penh airport, explore the Central Market, and discuss plans for the expedition.
Day 2: Explore the Killing Fields of Choeung Ek and visit Watt Phnom or Tuol Sleng.
Day 3: Travel by private transport to Sihanoukville. Stay the night in beachfront bungalows at Otres Beach.
Day 4: Two-tank boat dive followed by optional shore-based cleanup dive. Stay the night in bungalows on the island beach of Koh Rong Samloen.
Day 5: Two-tank boat dive starting and ending on Koh Rong Samloen.
Days 6-7: Five-tank overnight dive trip, including one night dive. Sleep on the boat for the first night, return to Otres Beach near Sihanoukville and stay in bungalows for the second night.
Day 8: Drive to Siem Reap and enjoy the city.
Day 9: Explore the awe inspiring ruins of Angkor Wat.
Day 10: Catch your flight home from Siem Reap or Phnom Penh, or stay longer and let us recommend activities for additional days.
---