Amazonas, Peru
Have you ever wanted to experience the awe inspiring Amazon jungle, but prefer not to sleep in a hammock, cook on a fire, and bathe with caiman? If so, this trip is for you. Spend a few nights in the Amazonia Expeditions Tahuayo Lodge named by Outside Magazine as one of the top ten wilderness lodges in the world. You'll also spend a couple nights further upriver in the Amazon Research Center (ARC) surrounded by pristine jungle. Spend your days exploring the jungle with your professional guides which include an experienced biologist. Spend your nights comfortable, clean, and dry in your bed.
We'll also spend a night in cabins with our friend Wilder and his family. Staying a night with this Peruvian family will be a memorable experience. Wilder will teach us about some of the medicinal plants he grows, you can swim with his children, or go for a walk.
In addition to your time on the Tahuayo, you'll have a couple days to explore Iquitos, which is the largest city in the world with no road access.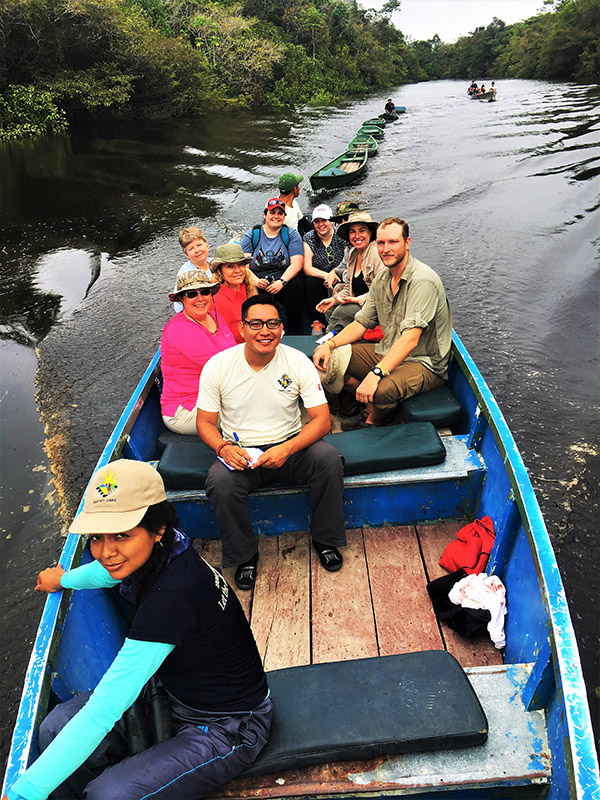 ---
---
Facts at a Glance
Dates of upcoming trips:
The trip is 9-11 days long depending on optional additional days.
Level of Difficulty: Easy. Pace, distance and activities will be determined by the group with lots of flexibility. We can accommodate nearly anyone's desired level of physical activity.
What's Included: Two nights in Iquitos, three nights in the Tahuayo lodge, two nights in the Amazon Research Center (ARC), and one night in Wilder's cabins. Most meals starting with lunch on day 1 and ending with breakfast on day 9, all ground and water transportation including airport pickup and drop off, entry fees, conservation fees, port taxes, city and jungle guides.
What's not included: Flights, drinks and snacks between meals, alcoholic beverages, laundry, up to 2 meals, unscheduled activities, personal travel insurance, additional days, and anything not listed as included.
Trip Origination and End: Fly in and out of Iquitos, Peru.
Price: $2,800 with a minimum of four, and a maximum of 10 participants. Optional additional days are $250 per day.
Optional Days: Days 10 and 11 are optional and will focus on Iquitos and the surrounding area. See detailed itinerary below for details.
---
Basic Itinerary
(be sure to read our detailed itinerary)
Day 1: Arrive at the Iquitos airport, settle into your hotel, and explore the city.
Day 2: Travel to the Tahuayo Lodge, evening walk in the jungle.
Day 3 and 4: Full days at and around the Tahuayo lodge. Day and night walks, paddle canoes, canopy tour, and more.
Day 5 and 6: Go upriver to the Amazon Research Center (ARC). Search for wildlife and explore more jungle, rivers, and scenic lakes.
Day 7: Head back down river for a night at casa de Wilder and his cabins.
Day 8: Back to Iquitos.
Day 9: Fly home or stay for the optional days.
Day 10 and 11: Optional additional days to explore Iquitos and the surrounding areas.
---
---