Garrett Cooper | Founder & Chief Expedition Officer
In 2006 Garrett joined the Army as a Forward Observer and was selected by the 1-87 scout/sniper platoon with the 10th Mountain Division. After a nearly 15 month deployment to Iraq he got on his motorcycle and rode south. He rode for 7 months through Central and South America reaching Tierra del Fuego, then went north again into Brazil before flying home. He covered 21,000 miles on this trip and loved every one of them.
After returning to the States he earned his BS in Expeditionary Studies from Plattsburgh State University. Garrett has worked as an expedition medic for a dirt bike tour company in Cambodia, paddled solo in a native wooden boat down the Mekong for 12 days, paddled 600 miles with a partner through Cambodia and Vietnam teaching CPR and the Heimlich maneuver in several villages, built a balsa wood raft on the Amazon and paddled it in a multi-day race, packrafted various tributaries to the Amazon, attended a survival school in Colombia, and paddled places like Wales, Scotland, and several states all over the country. He is a Wilderness EMT, Geo Medic, Wilderness First Aid/Responder instructor, ACA level 2 river kayak instructor, BCU L1 coach, and a BCU 4 star trainee for both canoe and sea kayak.
In addition to being the owner and founder of Feral Human Expeditions, he is an adjunct professor for the Expeditionary Studies department at Plattsburgh State University where he teaches outdoor living skills, paddle sports, and wilderness medicine. Garrett also teaches Wilderness First Aid, Wilderness First Aid Afloat, and Wilderness First Responder classes for SOLO.
---
Steve Maynard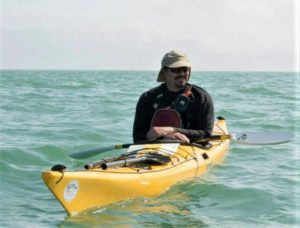 Steve has been working as an outdoor educator since 1987. He has learned from and worked with some of the best practitioners in the field, to teach a wide variety of clients in multiple land and water based disciplines in some of the most spectacular locations Europe and North America have to offer.
His specialization is Paddlesport but his professional resume includes skiing, backpacking, climbing, navigation, outdoor living skills, personnel development, youth work, problem solving etc. etc.
Steve started kayaking on remote sea lochs in North West Scotland. Since then he has paddled, guided, coached and been coached extensively in the United Kingdom, and throughout Europe and North America.
He holds qualifications in many adventure sports, including sea kayaking certifications at the highest level from the British Canoe Union (Level 5 Coach Sea and 5 Star Assessor Sea, UKCC Coach Level 1 and 2 Director, Level 3 Coach Whitewater) and American Canoe Association (Level 5 Advanced Open Water Coastal Kayaking and Level 4 Whitewater Instructor).
After nearly 20 fun filled years of being constantly on the move Steve took a "Proper Job" with the Expeditionary Studies B.S. and M.S. at SUNY Plattsburgh. He is currently the head of paddle sports and outdoor living skills for Expeditionary Studies and in his spare time he continues to teach classes for other paddling schools, present at kayak symposiums and organize/work on BCU and ACA certification courses.
One of Steve's biggest pleasures in life is helping people improve their understanding of technique and environment to enable them to have more fun and be safer in the outdoors.