Garrett Cooper | Founder & Chief Expedition Officer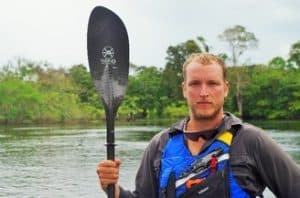 In 2006 Garrett joined the Army as a Forward Observer and was selected by the 1-87 scout/sniper platoon with the 10th Mountain Division. After a nearly 15 month deployment to Iraq he got on his motorcycle and rode south. He rode for 7 months through Central and South America reaching Tierra del Fuego, then went north again into Brazil before flying home. He covered 21,000 miles on this trip and loved every one of them.
After returning to the States he earned his BS in Expeditionary Studies from Plattsburgh State University. Garrett has worked as an expedition medic for a dirt bike tour company in Cambodia, paddled solo in a native wooden boat down the Mekong for 12 days, paddled 600 miles with a partner through Cambodia and Vietnam teaching CPR and the Heimlich maneuver in several villages, built a balsa wood raft on the Amazon and paddled it in a multi-day race, packrafted various tributaries to the Amazon, attended a survival school in Colombia, and paddled places like Wales, Scotland, and several states all over the country. He is a Wilderness EMT, Geo Medic, Wilderness First Aid/Responder instructor, ACA level 2 river kayak instructor, BCU L1 coach, and a BCU 4 star trainee for both canoe and sea kayak.
In addition to being the owner and founder of Feral Human Expeditions, he is an adjunct professor for the Expeditionary Studies department at Plattsburgh State University where he teaches outdoor living skills, paddle sports, and wilderness medicine. Garrett also teaches Wilderness First Aid, Wilderness First Aid Afloat, and Wilderness First Responder classes for SOLO.
---
Chris Ceaser | Risk Management, Survival Expert, and Logistics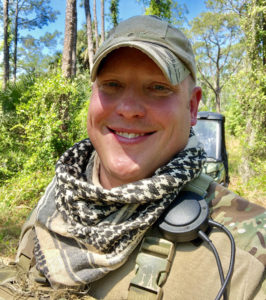 Chris Ceaser serves in the USAF as a Survival, Evasion, Resistance, and Escape (SERE) Specialist and Personnel Recovery Program Manager. Chris completed a grueling 18 month training process in the world's only military SERE career program, and has since trained thousands of students as an advanced survival instructor in remote field conditions to include primitive living skills for all five global biomes.
Chris also specializes in Personnel Recovery (PR), or Search and Rescue. He has worked as a PR Advisor for all Central Command military personnel, and prepared forces for extended survival & evasion events caused by access denial, or for large regional conflicts and special operations contingency missions. To accomplish this, he made several foreign partner relationships and conducted intelligence gathering/risk assessment for potential future isolation events. Chris was then assigned as the Deputy Director for the Emergency Management program for 35 Million people in Afghanistan. There he planned for disasters and ways to enable flexible recovery options, even in the absence of significant American military presence.
Chris is uniquely suited to analyze the operating environment to plan for survival, captivity, wilderness exploration, and search and rescue considerations. He can execute command & control/logistics of emergency management centers worldwide. Other qualifications include: Wilderness EMT, Dive Professional Medical Instructor, Dive Master, Protective Services Tactics, High Threat Location Risk Management, Emergency Management Command & Control, Survival Instructor, Search and Rescue Specialist, Swift Water Rescue, High/Low Angle Rescue.
---
Jeff Toorish | Expedition Medic and Documentarian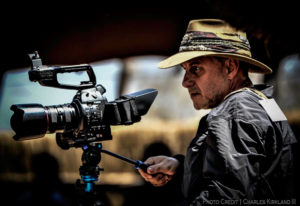 Jeff Toorish is an award winning journalist and documentary photographer. He has traveled the world to produce breathtaking photographs in remote locations, both on land and underwater. His work has appeared in publications such as the Boston Herald, the NACD Journal, Northeast Diver Magazine and more. He has recently completed work on a documentary book about the Shaker Religion at Sabbath Day Lake, Maine entitled Chosen Faith, Chosen Land, which has risen to the top of its category on Amazon.com. Documentary filmmaking is exploration to Jeff, and he is currently working on the political changes affecting the Brazilian indigenous people, the Matis.
Toorish is often sought out as an exploration, survival, and wilderness medical expert by production companies. He is currently featured on the REELZ TV program Notorious and is frequently an on camera expert for television news programs. As a video producer, Toorish has won awards from many prestigious organizations for his work, including a Gold at the Houston Film Festival, Telly, and Pollie awards for his political documentary work.
Jeff is an accomplished paramedic, wilderness medicine educator, SCUBA instructor, cave diver, underwater photographer, and a National Fellow in The Explorers Club.
---
Brandon Munsell | Expedition Medic
A current Critical Care Paramedic and past Paramedic with the United States Military Deployable Operations Group, Brandon has over 18 years in Emergency Medicine. He started as an Ocean Rescue Lifeguard in Florida at 16 years old and has served as a Medic in numerous capacities both in the urban and remote environments.
A U.S. Coast Guard Veteran and Officer graduate, Brandon has also worked for the National Wildlife Refuge and Florida Park Service, and has been an Expedition Medical Officer on various trips in a wide range of climates. Brandon is a survival instructor and has been a SOLO Wilderness Medical Instructor for 8 years. He also works as a Clinical Educator for several hospital groups and is an AHA Advanced Cardiac Life Support and Pediatric Advanced Life Support instructor as well as a Tactical Emergency Casualty Care Instructor.
---
Steve Maynard | Kayak Instructor and Guide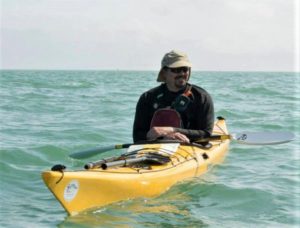 Steve has been working as an outdoor educator since 1987. He has learned from and worked with some of the best practitioners in the field, to teach a wide variety of clients in multiple land and water based disciplines in some of the most spectacular locations Europe and North America have to offer.
His specialization is Paddlesport but his professional resume includes skiing, backpacking, climbing, navigation, outdoor living skills, personnel development, youth work, problem solving etc. etc.
Steve started kayaking on remote sea lochs in North West Scotland. Since then he has paddled, guided, coached and been coached extensively in the United Kingdom, and throughout Europe and North America.
He holds qualifications in many adventure sports, including sea kayaking certifications at the highest level from the British Canoe Union (Level 5 Coach Sea and 5 Star Assessor Sea, UKCC Coach Level 1 and 2 Director, Level 3 Coach Whitewater) and American Canoe Association (Level 5 Advanced Open Water Coastal Kayaking and Level 4 Whitewater Instructor).
After nearly 20 fun filled years of being constantly on the move Steve took a "Proper Job" with the Expeditionary Studies B.S. and M.S. at SUNY Plattsburgh. He is currently the head of paddle sports and outdoor living skills for Expeditionary Studies and in his spare time he continues to teach classes for other paddling schools, present at kayak symposiums and organize/work on BCU and ACA certification courses.
One of Steve's biggest pleasures in life is helping people improve their understanding of technique and environment to enable them to have more fun and be safer in the outdoors.