Where do you want to go next?
---
Cambodia: Kingdom of Water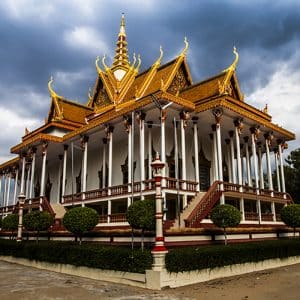 Come with us to the wonderful kingdom of Cambodia for a unique and unforgettable experience. Most of your time in Cambodia will be spent paddling the Mighty Mekong River and the Tonle Sap Lake. You will paddle the back "streets" of a village built on stilts towering over the water, explore an otherworldly flooded forest, and see the endangered Irrawaddy Dolphin. You will be camping on islands, staying in remote villages, sleeping in floating houses, and of course spending a few nights in hotels. In addition to the paddling sections of the trip, you will investigate Cambodia's dark past with the Khmer Rouge, explore the awe inspiring Angkor Wat, and visit a bird sanctuary.
---
Colombia Caribbean Reef
After flying into Cartagena for a day of sight-seeing, we depart to the Rosario Islands for two full days of diving, followed by 3 days in Santa Marta diving the glorious Taganga Park and neighboring reefs. You'll be immersed in the Caribbean reefs that are teeming with life! Coral is abundant with healthy boulder corals, elkhorn fields as far as the eye can see, and vibrant fish darting by. Eels are common sights, and sea turtles can be seen seasonally.
---
Matis: People of the Amazon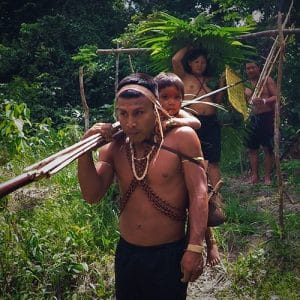 Simply put, this is the most authentic indigenous experience available to you today. The Matis are masters in the jungle, still implementing the skills, beliefs, and ceremonies which have been developed over generations. Watch as they skillfully hunt with 14 ft. blowguns and curare tipped darts, climb trees and vines to retrieve their kill, and utilize plants, bones, clays, and everything else in their environment to meet all their needs. This is not a reenactment of a people's history, this is the Matis as they are today.
---
Peru: Expedition Dugout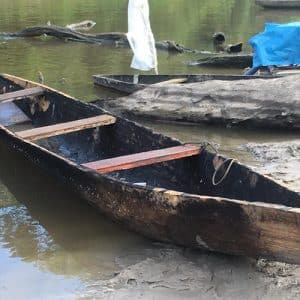 Participants of Expedition Dugout will experience an intimate cultural immersion into the small community of Yarina on Rio Yanuyacu, where jungle and village life converge. Our stay in Yarina will present opportunities for more than just observation of the villager's daily lives, but participation in and education of their crafts.
Our primary objective while in Yarina is the construction of a dugout canoe. We will work with the assistance and instruction of experienced locals using hand tools and fire to complete the process. Once finished, we'll paddle the dugout canoe through the Amazon rainforest surrounded by pink dolphins, howler monkeys, macaws, caiman, and much more.
---
Peru: Rio Tahuayo – A Lodge Based Jungle Experience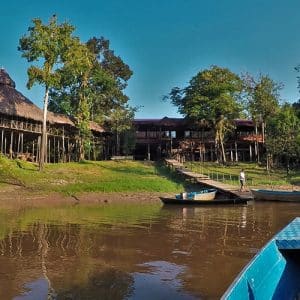 Have you ever wanted to experience the awe inspiring Amazon jungle, but prefer not to sleep in a hammock, cook on a fire, and bathe with caiman? If so, this trip is for you. Spend a few nights in the Amazonia Expeditions Tahuayo Lodge named by Outside Magazine as one of the top ten wilderness lodges in the world. You'll also spend a couple nights further upriver in the Amazon Research Center (ARC) surrounded by pristine jungle. Spend your days exploring the jungle with your professional guides which include an experienced biologist. Spend your nights comfortable, clean, and dry in your bed.
You will also spend a night in cabins with our friend Wilder and his family. Staying a night with this Peruvian family will be a memorable experience. Wilder can teach us about some of the medicinal plants he grows, you can swim with his children, or go for a walk.
In addition to your time on the Tahuayo River, you'll have a couple days to explore Iquitos which is the largest city in the world with no road access.
---
Jungle Living Skills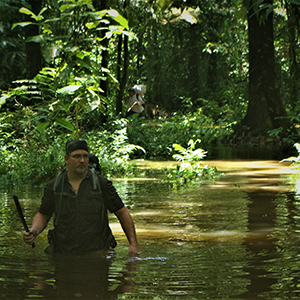 Participants of the Jungle Living Skills Expedition will learn many valuable survival, bushcraft, and jungle living skills. These skills don't just help keep you alive in less than ideal conditions, but will help you to stay comfortable with less and enjoy the jungle more fully.
In addition to learning these skills, we hope to educate you in some of the science and biology of the jungle, as well as provide you with a memorable cultural experience.
---
Welsh Coast Sea Kayaking Expedition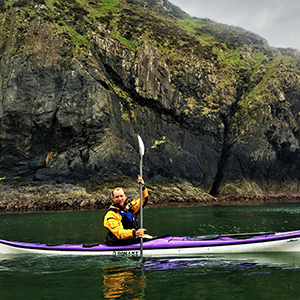 The Welsh Coast offers some of the finest sea kayaking to be had. Paddle along dramatic sea cliffs and watch birds nesting precariously in the rocks. Glide silently into caves and listen to the sound of a breathing dragon as the sea swell compresses air pockets in the stone, releasing a puff of air and the sound of a growling mythical creature.
While Wales is part of the United Kingdom, it has retained much of its Welsh pride as evidenced in its people, castles, sites, culture, and history. In addition to the paddling portions of the trip, you'll have the opportunity to see these sites and sample Welsh life.
---
Coming Soon
---
Survival Seminar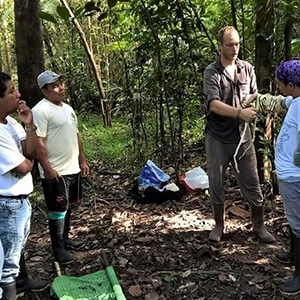 Learning from Indigenous People's Skills and Knowledge of the Amazon Rainforest
Feral Human Expeditions is teaming up with Puro Amazonas and their team to create this survival course in the heart of the Amazon. Puro Amazonas is an eco-tourism company with a passion for sustainable living and responsible cultural exchanges with local Amazon communities.
Challenge yourself in this ten day survival seminar in the largest forest on earth. Learn from local indigenous and practice the skills and techniques they use to survive in the jungle. Build fire and shelter, find food, make potable water, build a raft, and make your way back to civilization. Over the course of the trip you will also receive training in Wilderness First Aid (WFA) and learn how to manage a medical emergency in a remote environment. At the end of the trip you will receive a 16 hour WFA certification from SOLO (soloschools.com).
---
Peru: Flood of the Amazon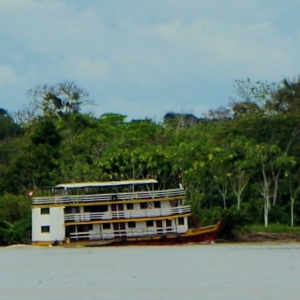 Paddle through the treetops and watch as pink dolphins follow nearby. Quietly float this tributary to the Amazon as howler monkeys roar in the jungle and parrots squawk overhead.
The Amazon is truly a magical place. Using a comfortable riverboat with cabins, we can paddle the dramatic annual flood in a series of easy day paddles rather than a hardcore expedition.
The riverboat will provide us with a mobile base which provides safety and comfort without the need to find dry land every day.