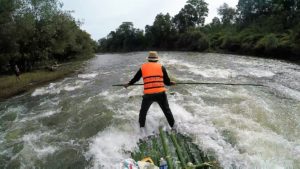 Garrett and Yok (local fixer/interpreter/friend) went into the far northeast of Cambodia to scout an area for future trips with FHE. After traveling up the Se San River and one of its many tributaries, the two were invited spend the night at the chief's house in a small village.
After the ceremonial blessing of a new piece of farming equipment, everyone shared a drink made from fermented rice husks. Rather than passing the drink around, it stays stationary in a large clay pot with a long wooden straw that everyone shares. The better part of the night was spent drinking this and sharing dinner.
Building our Raft
The next day, the chief sent a man upriver to help find a suitable stand of bamboo and to help build the raft that was needed to get back down river. The raft was constructed in a surprisingly quick 4-5 hours and was made of 100% bamboo, even the ties holding it all together. Once on the water it took a bit of practice poling the raft, especially while pushing off the riverbed and banks to avoid obstacles in the rapids. After a couple days on the raft, it was in need of some repair. The raft had been pushed to its limits through rocky rapids and it had loosened up over the miles.
At the end point, the bamboo from the raft was given to a local community to be used in construction.
Saying goodbye to a friend
After returning to Yok's village, he learned that one of his best friends had died a couple days before. This is a tribal animist village, and when one of them dies they throw a huge party for three days. Garrett and Yok arrived on the third day which had the liveliest celebrations with lots of dancing, music and free flowing rice wine. Garrett was honored to be invited to the inner circle of the celebration with the family of the deceased, and the deceased himself. "I must admit, I have had drinks with many people in my travels, but this is the first time I have ever drank with a dead man."