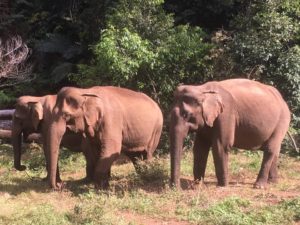 After Cambodia: Kingdom of Water, Garrett went into the SE of Cambodia to Sen Monorom and surrounding areas. After meeting up with the people at the Elephant Valley Project, Garrett got to spend some time with the elephants.
Watching an elephant walk slowly through the jungle and across a creek can solicit an unexpected emotional response. The sights and sounds are nothing short of amazing. Elephants make a range of sounds but the one we are all familiar with is the trumpet. However, the sound of a trumpeting elephant cannot be recreated on a speaker. It must be experienced firsthand. For more information on EVP visit elephantvalleyproject.org
Garrett spent another day with a conservation organization in the jungle to find gibbons. Not only were they successful in this, but they got to see the rare site of a baby gibbon playing with a giant squirrel. In addition to the gibbons they were able to spot many other kinds of monkeys including the endangered black shanked douc.
Garrett had one last day in Rattanakiri Province so he rented a motorcycle and spent the day with new found friends exploring and swimming in some of the incredible waterfalls of the area.
We hope to return to this area with clients at some point within the next year and a half so if this is something you are interested in, let us know!