When:
August 10, 2018 – August 25, 2018
all-day
2018-08-10T00:00:00-04:00
2018-08-26T00:00:00-04:00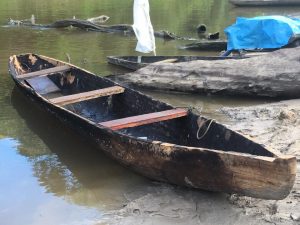 Paddling a dugout canoe in the Amazon is a bucket list activity for many people. Why not go all in and build the canoe yourself, then paddle it through the jungle for multiple days? At FHE going all in is what we do best, and that's what we've done with Expedition Dugout.
Our primary objective is to learn about and participate in the construction of a dugout canoe using techniques commonly used by rural Peruvians under the instruction of experienced locals. Most of the work will be done with axes, a few other hand tools, and fire. Once finished, we'll paddle the canoe through the Amazon rainforest surrounded by pink dolphins, howler monkeys, macaws, caiman, and much more.
You'll also experience intimate cultural immersion in the small community of Yarina on Rio Yanuyacu, where jungle and village life converge. This will be our base of operations during the construction process where we'll stay with local families in their homes. Our stay in Yarina will present opportunities for more than just observation of the villager's daily lives, but also participation and education of their crafts. Learn to make jewelry with palm fibers and seeds, catch a variety of fish including piranha, explore the surrounding jungle, play volleyball in the evenings, and learn some skills that many of us take for granted like how to pluck a chicken or cook on a fire.
At the end of the expedition, we will donate the canoe back to the village of Yarina. This will help to reduce our environmental impact by reducing the need of the community to make another canoe.